A place to unwind, relax & breathe.
Escape to Heartwood Treehouse, a luxurious and secluded retreat with outstanding panoramic views of Mid Wales. The treehouse with its own private wood-fired hot tub is the perfect place to get away from it all. This south-facing escape with its sumptuous bedroom, beautiful bathroom and luxurious interiors has been carefully crafted by us to reflect the beauty of the nature in which our treehouse is nestled.
Enjoy the incredible views from the spacious deck, cosy up to the wood-burning stove and take in the tranquillity of the natural surroundings. Our adults only retreat is perfect for romantic getaways or relaxing breaks. With easy access to a variety of outdoor activities and attractions, Heartwood Treehouse is the perfect destination for your next holiday.
Outside of our beautiful treehouse is everything you need to relax and soak up the beauty of our stunning views! A hot tub, panoramic decking and private fire pit are yours to use exclusively during your stay at Heartwood Treehouse.
Private Wood Fired Hot Tub
Let the stress melt away...
Our stunning treehouse comes with its own private wood-fired Hot Tub. Warmed and ready for use on arrival this sumptuous wooden tub is surrounded by the stunning natural beauty of the Welsh countryside. Watch the sunset with a glass of bubbly, gaze at the view or up at the stars and feel yourself unwind, soothing those aches and pains away.
Panoramic Balcony & Fire Pit
Break out the marshmallows!
Indulge in the serene atmosphere of our balcony, adorned with an exquisite glass balustrade and a ready-to-use gas BBQ. Savour a glass of the finest wine as you immerse yourself in the breathtaking panoramic views that lie beneath you.
For a more intimate ambience, relish the cosy seating area complete with a splendid outdoor fire pit, perfect for cuddling up and basking in the radiant hues of the sunset.
Here you can relax in the gorgeous kingsize bed with Hypnos mattress and sumptuous Egyptian cotton bedding to ensure a fabulous night's sleep, then wake up looking out of the picture window, which takes in more of the amazing hilltop panoramic views.
Also inside the bedroom, under the picture window, is a freestanding bath where you can soak your troubles away while taking in the views at the same time.
Inside our luxury adults-only hideout, you will find a fully fitted kitchen, with beautiful Welsh slate worktops, and Siemens integrated appliances including a fridge, oven, hob, dishwasher and even a wine cooler and Nespresso coffee machine.
The comfy leather sofa is situated facing the hilltop panoramic views and a cosy log burner that will keep you toasty warm on chilly evenings.  You can also relax watching the flat-screen TV.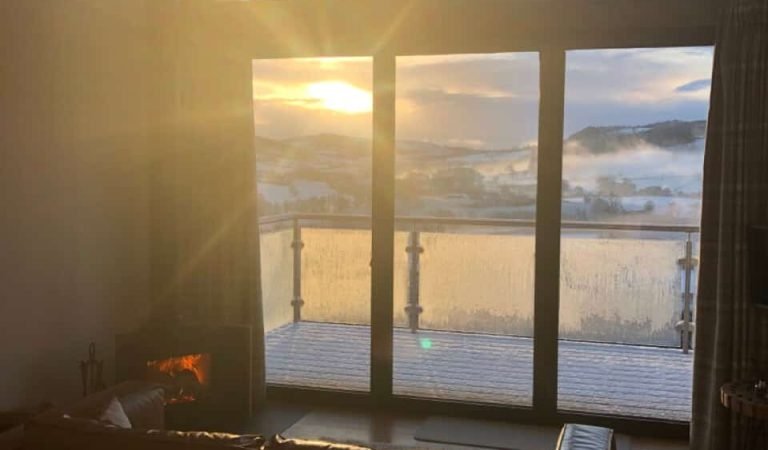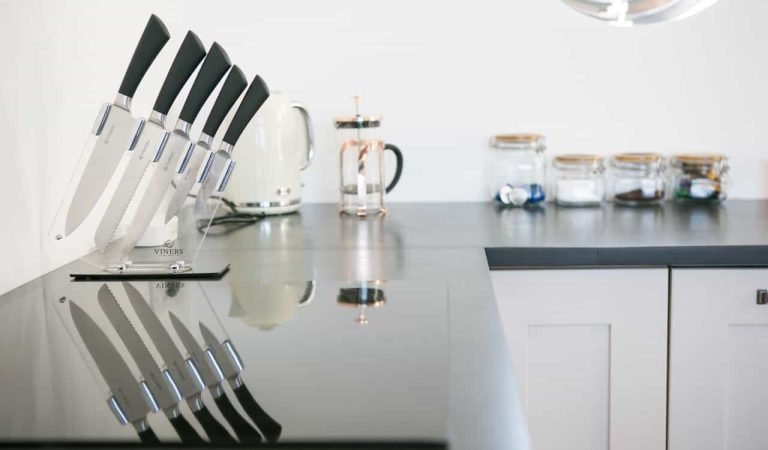 Inside our bathroom, you will be treated to a beautiful walk-in rain shower
The counter top basin stand was sourced and hand made from old oak and the mirror was handcrafted from driftwood collected from the beaches of the North Wales coastline.
In the bedroom we also have a beautiful freestanding bath from where you can enjoy views of the stunning welsh countryside. So wether you love a shower or a bath you can choose.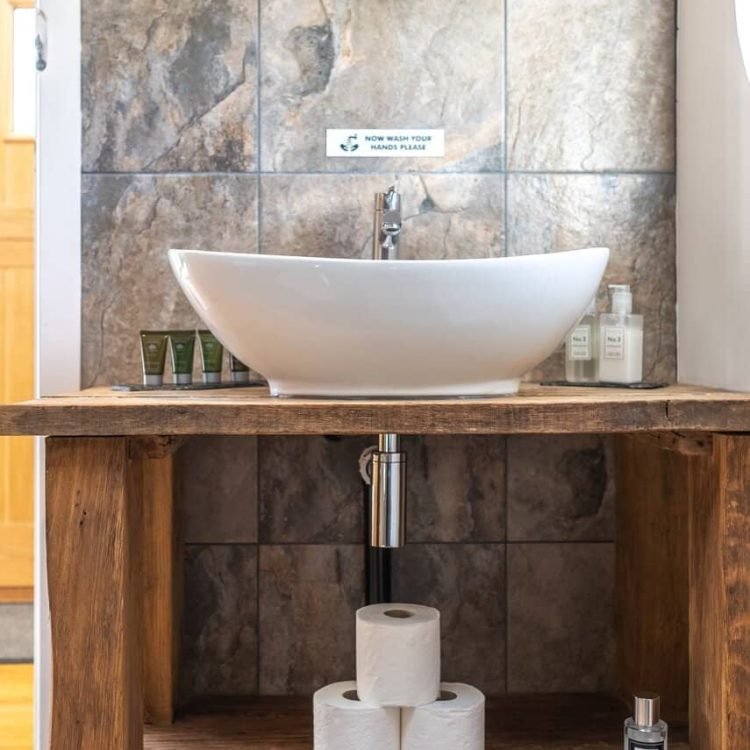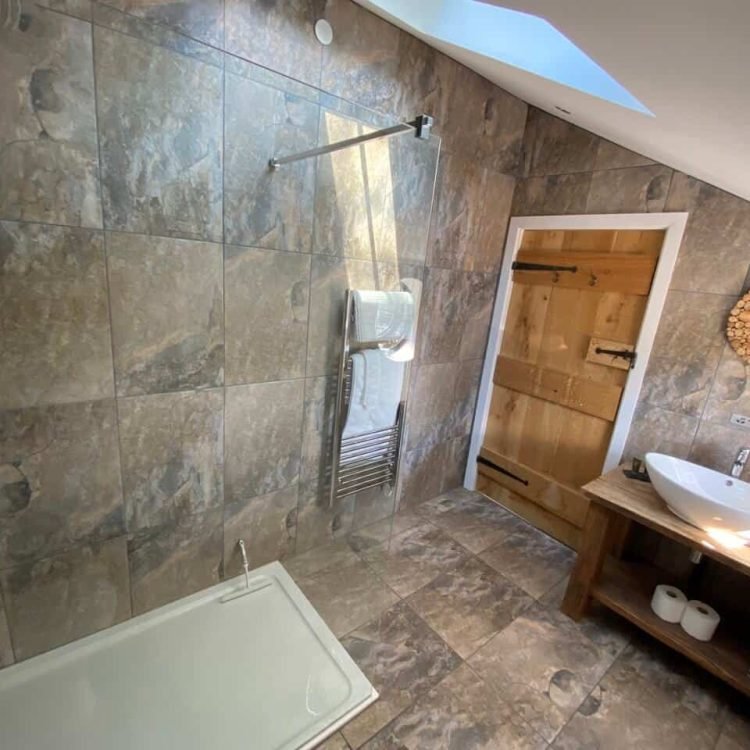 key features at a glance...
Ready for a luxury break?
Read Our Latest Reviews...
Perfection! Practically speechless. We stayed for 3 nights for our honeymoon in the heartwood treehouse. It was breathtakingly beautiful, absolutely stunning and worth every single penny. Money well spent for sure. They had literally thought of everything that you may need. Saphan was incredibly helpful and a pleasure to meet. Whether you are blessed with lovely weather or not this doesn't impact the stay. We had all weather's including a storm which was an experience to witness with the view you have. Everything was just perfect. We will definitely be back and would visit at any time of the year. Thank you for the best honeymoon ever. Memories we will treasure forever!
Perfection! The Heartwood Treehouse is absolutely idyllic. It successfully combines comfort with beauty, and contemporary style with coziness. We had a wonderful time there and instantly felt right at home. Extra touches like robes and slippers, a welcome pack and board games were lovely. Shaphan and Abi were excellent; very helpful and knowledgeable. I would certainly recommend this as a place to stay.
The perfect escape This was everything and more. I booked the bluebell safari tent as a surprise for partner's birthday and we absolutely loved it. It was beautiful and the view was to die for. Honestly the perfect escape from our busy lives in London. The host even went the extra mile and picked us up from the train station when i couldn't manage to book a taxi to get us to the site as we arrived in Welshpool by train and coach (I suggest you drive there if possible).When we arrived at the tent, there was a lovely welcome box full of treats waiting for us which was lovely. The host then took time to show us around and explain how the amenities like the hot tub worked. Surprisingly, the tent was equipped with things like electric blankets, heaters, and the kitchen was fully functional with pots, cleaning supplies and even seasoning. Even by glamping standards, this place was above and beyond.It gets a 5 star from me; you can tell how much work the hosts have put into this place. I will definitely be returning.Thank you again for the hospitality and allowing us to make memories.
The Oaklands Tents are Truly Exceptional an Place to Stay If you wish to escape from the world to a little piece of Welsh heaven then we would recommend staying in the Tents.There are only two Tents and the Treehouse which makes the whole place feel like you are miles away from everyone even though Welshpool is only a few miles away.The tented accommodation has everything you could wish for including outside log burning hot tub (which was ready for our arrival), a fire pit, log burning stove, stunning views all without being overlooked from the other parts of the site or from others below.The staff could not do enough for us, they answered all our questions before we booked they accommodated our late arrival and provided all the information we needed to have a wonderful stay.The owners have really thought / considered what glamping is all about and how to deliver a luxurious experience.
Serene We have never been so relaxed in our life. The treehouse is beautiful and so peaceful and we thoroughly enjoyed our long weekend here. From the logburning hot tub to the amazing views from the balcony the treehouse has so much to offer. We had time to unwind and relax and spend quality time together. We are looking to stay here again soon and would highly recommend to anyone looking for a peaceful and tranquil get away.
Amazing We stayed 3 nights in the Treehouse. When we arrived we where amazed at how much it looks better than the pictures on the website. The cleanliness is superb. Cleanest place iv'e ever stayed in The peace and quiet was fantastic with incredible views. I would totally recommend this to anyone.
Amazing stay We have had quite a rubbish few months recently, I had booked this as part of a Christmas present to my partner and this was exactly what we needed following our recent dilemmas.The hosts had been amazing during our stay, very informative and helpful on arrival. We stayed for 3 days and had plans to go around the area but after arriving, we decided we we're going to do nothing but relax in this beautiful accommodation. We will definitely be back again. Beautiful scenery, so quite and peaceful.
Perfect Get Away Perfect getaway. Return visit and we will be returning again. Can't recommend enough. Is a beautiful place and amazing views from where ever you stand/sit. Amazing hosts who provide a warm welcome and take the time to run through little things with us on arrival. Have really taken the time to add the little touches including prior to arrival (Love the video guides really helpful.)
Easter Treat Outstanding accommodation with absolutely beautiful views across the hillside and a very warm and friendly welcome from Shaphan!The welcome pack was full of goodies, thank you very much.We were secretly pleased that the weather was a little colder in the evening just to be able to light the fire 😊 We had plenty of logs to keep us going for the 2 evenings.Jumping in the hot tub after a few hours of walking was a treat with the amazing views around us.We couldn't have been happier with our stay. Thank you to wonderful hosts.David and Diane
Relaxed 40th Birthday retreat . The photos of this place do not do it justice . We have spent three nights unwinding and celebrating my 40th Birthday . We were so pleased to received a call on the morning of our booking to say we could have an earlier check in if we wanted , we jumped at the chance . We spent our time in this idyllic spot watching the world go by , from the steam train in the valley to the local wildlife . The stars in the hot tub at night were epic and we were blessed with some fantastic weather ! We were the only people on site which was amazing , however the treehouse and its two neighbouring safari tents are not close to one another, which make you feel like you have plenty of privacy . There's everything you need in the kitchen , tin foil , washing up liquid , cooking oil and more ! There was even ice in the freezer ready for your gin and tonic ! Thank you very much for an amazing stay ! Charlotte and Matt
Our Changeover days are Monday, Wednesday and Friday only. We offer a Minimum 2 night midweek stay or a three-night weekend stay.  See full T&Cs.
Any seven-night stay booked with us automatically receives a 10% discount. Please get in touch for any other date choices.